Gidsken Jakobsen
Gidsken Jakobsen er en av flypionerene som de fleste flyinteresserte har hørt om. Hun var fra Narvik, og tok flysertifikat i Sverige, og ble dermed den andre kvinnen med flysertifikat i Norge. Det vakte oppsikt at en kvinne kunne beskjeftige seg noe så vågalt som å fly. Som om dette ikke var nok, anskaffet hun seg sitt eget fly, en Sâäski, som på finsk betyr myggen. Flyet hennes ble døpt Måsen.

I forbindelse med "Åpen dag" på NL 23. november 2008, laget Roy Rusten, medlem av BLHF, en Power Point-presentasjon som viser litt av historien omkring Gidsken, og byggingen av en replica av flyet hennes. Dette står nå utstilt på NL i Bodø.

Presentasjonen tar ca. 1.5 minutt å laste ned på min maskin, og er på 60 bilder.

Power Point: Sääski - Myggen.

Bildet til venstre viser Gidsken Jakobsen og Måsen på havna i Narvik.

Bildet er kjøpt på e-Bay hvor det var lagt ut for salg.Klikk for større bilde.
Sääski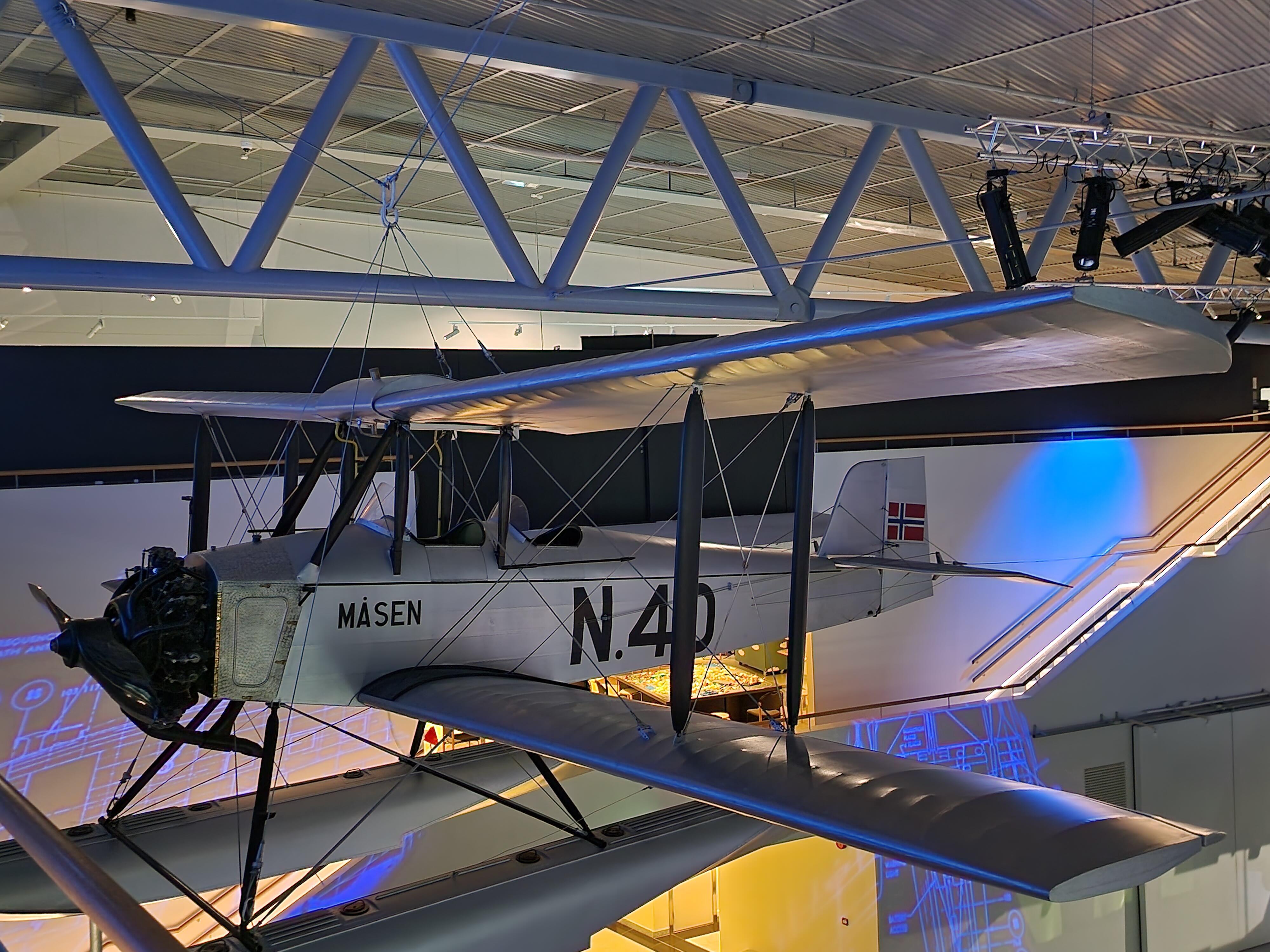 V.L. Sääski II (Replica)

V.L. Sääski II (Replica) er en kopi av Gidsken Jacobsen fly «Måsen».

V.L. Sääski II ble konstruert av Ing. K. W. Berger og Ing. A. Nieminen, og var det første serieproduserte flyet konstruert i Finland. Det Finske Flyvåpen benyttet flytypen til skoleflyging fra 1928 til 1941. Produksjon: Flyvåpenet: 34 Stk. Registrering: SA-95, SA-113, SA-117 – 126, SA-127 – 148. I tillegg var det produsert 5 fly for privat bruk.

Museets V.L. Sääski II

Flyet som står i museets utstilling er en kopi av Gidsken Jacobsen fly «Måsen» (Registrert N-40). Det er bygd opp av museet og Bodø Luftfartshistoriske Forening (BLHF), hovedsaklig Ivan Kristiansen og Halvor Nilsen. Oppbyggingen av flyet begynte i 1997 og ble avsluttet i juni 2004, da det ble plassert inn i museets utstilling.

Historikk i Norge

Gidsken Jakobsen fra Narvik var Norges andre kvinnelige flyger. Hun ble imidlertid vår første kvinnelige flyeier. Det første flyet hun kjøpte var av typen Saaski II. Flyet ble døpt «Måsen». Hun tok flysertifikat i Stockholm i 1929 og drev med flyging til 1936. I denne perioden eide hun flere fly, og hun var sentral i etablering og ledelse av tre flyselskap.

Gidsken Jakobsen ble legendarisk da hun fløy fra Narvik til Oslo vinteren 1929–30 i et åpent sjøfly. Turen tok 35 dager og inkluderte vågale flyoppvisninger og flere nødlandinger underveis. Sammen med en finsk flyger, Leppänen, utførte de akrobatiske volter som kunne ta pusten fra noen og enhver – mange av tilskuerne hadde knapt sett et fly før! I 1934 løsnet motoren i flyet hennes over Sognefjorden. Blytung falt motoren ni hundre meter og landet med et kjempeplask i sjøen. Som ved et mirakel kom Gidsken Jakobsen fra det med livet i behold.

Narvik Trelastforretning overtok «Måsen» i mars 1931. Ved en auksjon i 1931 i Helsinki, ble det overtatt av Sääski-fabrikken igjen. Flyet ble senere satt i stand og i 1935 ble flyet omregistrert til OH-ASC. Den nye eieren het H. M. Kastin og bodde i Helsinki. Flyet var i bruk fram til 1939, da det ble slettet fra registeret.

Gidsken Jakobsen døde i 1990.

TEKNISKE DATA:

V.L. Sääski II (Replica) Reg: N-40 «Måsen» C/n 4.V/l

BYGGEÅR: August 1929

TOMVEKT: 600 kg

LAST: Max 6 Kgs bak bakre sete

BENSIN: 125 Liter OLJE: 15 Liter

MOTOR: Siemens Halske Sh 12, 118 Hk., 9.syl., Stjernemotor SERIENUMMER: 19863 MAKS. OMDR: 1700 O/min FORBRUK BRENNSTOFF: 27,6 Kg/time.(40 L.) FORBRUK OLJE: 1,2 Kg/Time. (1,6 L)

INSTRUMENTERING: Kompass, turteller, fartsmåler, høydemåler, stigefartsmåler og klokke. I tillegg er det belysning på dashbordet og visuell avlesning av brennstoffkvantum.

EKSTRAUTSTYR: Brannslukker av typen Pyrene. (Påbudt ved sertifisering i Norge.) ANDRE

OPPLYSNINGER: Fører og passasjer i hver sin åpne cockpit. Sjøfly.

"Sääski Construction"

Historical background for building the Sääski aircraft.

Curator Birger Larsen.

The task of the Norwegian Aviation Museum is to take care of all aspects of the history of flight in Norway. The history is not only about airplanes but just as much the persons that flew and maintained them.

When going through the exhibits on the civilian side of the museum you soon discover that the oldest airplane on display is the Junkers JU-52. This airplane is a 1936 model airplane. Of course aviation history in Norway were made much earlier than that.

Since there are relatively few old civilian aircraft surviving in Norway compared to military types, there are a problem in visualizing this oldest part of the history. Some types have survived but they are all displayed in other museums. Therefore, the only possible soloution for us is to visualize the history by making copies of a few of the oldest and most interesting airplanes.

Since we are to tell the history of men and machine we were looking for possible interesting airplanes to copy. One particular person and airplane made our first choice relatively easy.

The Sääski airplane.

The V.L.Sääski was the first airplane in Finland produced in quantity. The airplane was designed by Ing. K.W. Berger and Ing A. Nieminen. Originally made for the Air Force in Finland it also were used for civilian flying.

Altogether 34 airplanes were made for the Air Force and 5 were sold privately.

The Sääski had a long and distinguished career in the Air Force. The first of them were delivered in 1928 and were used for training up to 1941. However this was not decisive for our choice of airplane. No, our choice were all because of a woman!

Gidsken Nilsine Jakobsen.

Born August 1.th 1908 in Narvik she was a daughter of a wealthy merchant dealing in timber. Inspired by the polar flights and especially the rescue expeditions sent to look for Nobiles "Italia" she decided that she also would learn the art of flying.

She joined the flying school of Aeromateriell in Stockholm in the summer of 1928. As the only woman out of 18 pupils in the school she graduated as the best. Flying only 7 hours with an instructor and 12 more hours solo she had her license. She then became the second woman with a license of flight in Norway!

Since Gidsken planned to operate from her native town of Narvik she had to master flying from the water. At that time there were almost no airfields in the northern part of Norway.

She took contact with the Sääski factory in Finland. They had classes in how to handle a seaplane. Soon we found her in Helsingfors where she attended a course together with military pilots.

A little earlier the Sääski factory had started the production of the Sääski II airplane and they found out that Gidsken would be just the right person to promote the airplane. July 1929 she became the proud owner of Sääski no. 4 made by the factory. This made her the first owner of a private airplane in the north of Norway and also the first woman in Norway which owned the airplane she was flying! She christened the airplane "Måsen" (Seagull)

After having her seaplane license she started the planning for the long flight home.

Being a relatively newcomer to flight, she soon found out that it would be wise to have a veteran accompanying her on the flight. Her choice was the flight instructor Jäderholm.

The original plan was to cross into Sweden on her way home, but she got no answer from the swedes in her attempt of obtaining a permission. At that time there were military restrictions for this part of Sweden. However since it already was late in the summer she had to head for home before the weather became too unstable.

Flying via Kemi she headed along the river Torneälven that is the border river between Sweden and Finland.

Passing Muonio she suddenly took the controls and steered left! She was determined to follow her original plan!

However, they experienced a strong headwind and they soon found out that they were to run out of fuel before they could land in Narvik. Gidsken decided to land on the lake Torneträsk where she know they could possibly obtain some fuel. Ordering Jäderholm to guard the airplane she then walked into the small

village of Abisko where she had luck! Nobody asked questions about her appearing into the village as if coming out of the blue!

Soon they had the airplane refueled and set course for Narvik.

After a relatively uneventful flight they landed in Narvik harbour in the evening of august 23rd.

November 8.th 1929 she obtained her norwegian flying license.

The airplane were used for local flights but because she were to use Narvik as her home base she had to have the airplane registered in Norway.

Late 1929 the flying instructor Jäderholm had to return to Finland but the Sääski factory sent another instructor to help out with the flying. After a short overlap, flying instructor Leppänen was her new co-pilot.

The closest place for checking out the Sääski in order to obtain norwegian registration were Trondheim but Gidsken decided she would go as far as Horten. Horten was at that time the main base for the Navy and also had factories for making and maintaining seaplanes.

On December 18.th 1929 she and Leppänen set off for Horten. Their first day of flying brought them just north of Bodø. The weather was very poor and they had to secure the Sääski to avoid damage in the storm. Altogether 18 ropes were used for tying down the airplane. The locals however took good care of both of the pilots, Nothing could be done except to wait for the weather to calm down. After the storm some damage to the floats were discovered. This damage reduced the amount of fuel to be carried to one-third of the full load. This reduced their maximum flying hours to one hour instead of three hours.

Slowly they headed south!

New Years Eve they spent in Trondheim. There they visited friends and stayed for one week. January 16th they landed at Lærdal and finally 20th of January they arrived in Oslo. They had visited 15 different places and had a total of 20 flying hours with more than one month spent on their way. The flight was not planned to be a record braking flight, but the newspapers in Oslo jokingly wrote that Gidsken had been better off using the coastal steamer!

Winter flying in the northern part of Norway even nowadays needs a lot of planning and experience. One must admit that Gidsken really had guts in flying south at that time of the year.

January 30th she flew to Horten and the papers were issued without any problems. The return flight started January 8th. Again they flew into bad weather. Four days into the trip they landed at the frozen lake of Aursundsjøen. The following night they had a heavy snowfall. Next day more than 100 of the local inhabitants did a marvellous job of clearing the runway. Soon they were off again.

Half an hour into the flight they had an oil pipe coming apart. The resulting fire forced them into landing at the frozen river of Gaula. Here they managed to put out the fire. The "Måsen" had not sustained very much damage and they were soon able to do the neccessary repairs.

Without any further problems they finally reached Narvik.

After this eventful flight the Sääski was used for local flights in the area.

An accident outside Øksfjord June 29th 1930 halted the flying. Gidsken and her brother were coming in for a normal landing when suddenly a wire connected to the elevator broke. In the very hard landing that followed, the airplane sustained damage to the lower wings and one of the floats. The weak spot on the Sääski were the floats. Suitable for fresh water landings on the lakes of Finland, they were too fragile for the rough waters of the northern part of Norway.

"Måsen" was first sent for repair to Sweden but they could not do much and the airplane were transferred to the Sääski factory for repair. A dispute about the cost of repair and also missing payment for the purchase of the airplane, resulted in the Sääski being sold at an auction in Helsingfors on August 18th 1931. The factory again took over the ownership of the airplane.

Subsequently "Måsen" was sold to a private owner, Mr. M.H.Kastin, Helsingfors and registered OH-ASC. Sometime during 1939 it was struck off the register.

The flying career of Gidsken soldiered on for several years after this. First she had a Junkers Junior on loan for a movie being made in Finnmark. This Junkers is now displayed in the Air Terminal of Helsinki. After this, she bought a Junkers F-13 and flew on the west coast of Norway for a while, carrying tourists and others for sight-seeing around the fjords. Balestrand was one of her favourite bases for this. After a crash of the F-13 she again invested in a new airplane, a Loening Air Yacht. On one of her first flights she had an accident and she nearly drowned before she was rescued by one of her passengers.

This ended her flying career. 1939 she took over her fathers business in Narvik.

She died June 13th. 1990.