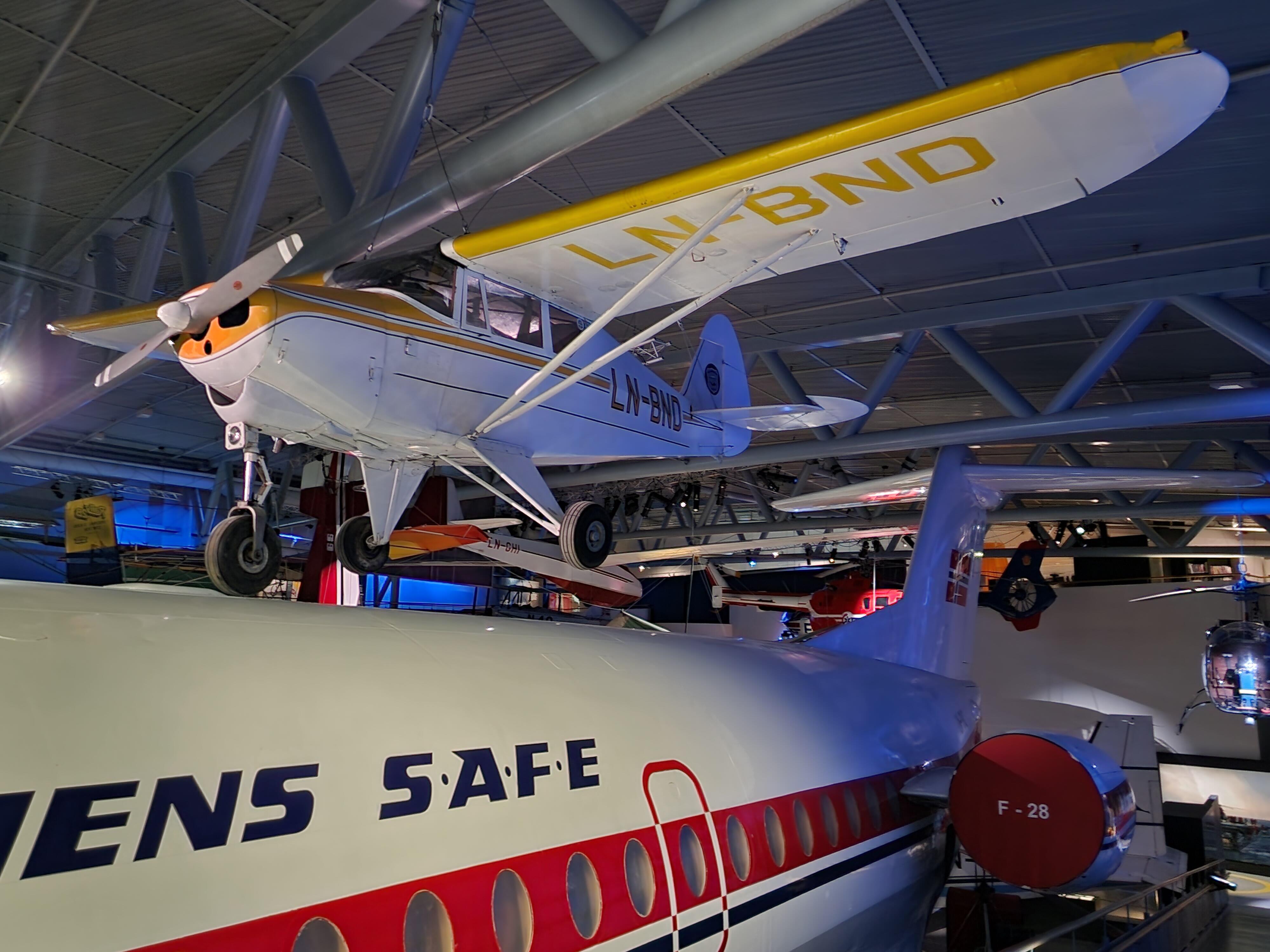 Piper Colt er et lavkostnads side by side toseters sports og treningsfly av høyvinget monoplan typen. Skroget er helmetall-rørkonstruksjon som er duk-kledd.

Piper Colt fikk typegodkjenning 21 oktober 1960.Den ble laget i en Standard , Custom og Super Custom utgave. Forskjellen besto i utstyr og instrumentering.

Den var også godkjent for bruk på flottører. Super Custom Colt har blindflygings-instrumenter, en Piper AutoNav radiokompass og Narco Superhomer for VHF kommunikasjon og VOR navigasjon, som gjorde den egnet for instrumentflytrening.

Museets Piper Colt ble kjøpt av Ragnar Johnsen i 1986, og den var et vanlig syn på Bodøhimmelen til den i 1991 blåste rundt på flyplassen i Bodø under en storm og ble ødelagt.

Johnsen restaurerte den før den ble overtatt av museet.

Tekniske data:

Motor: Lycoming O-235C1B,108 hk

Vingespenn: 9,14m

Lengde: 6,10m

Høyde: 1,90m

Vekt tom: 426 kg

Max vekt: 748 kg

Max hastigh.: 193 km

Marsjhastigh.: 174 km

Steilehastigh.: 87 km

Piper Colt is a low-cost side by side two seat high wing sports and trainer monoplane. The hull is an all-metal-tube construction which is covered with cloth.


Piper Colt got its type approval on October 21 1960. It was made in Standard Custom and Super Custom Editions. The difference lays in equipment and instrumentation.

It was also approved for use on floats. Super Custom Colt has instruments for flying blind: Piper Autonav radio compass and Narco Superhomer VHF communication and VOR navigation, which made it suitable for instrument flight training.

The museum's Piper Colt was acquired by Ragnar Johnsen in 1986, and it was a common sight on the sky over Bodo until it was destroyed at Bodø airport in a storm in 1991.


Ragnar Johnsen restored it before it was donated to the museum.