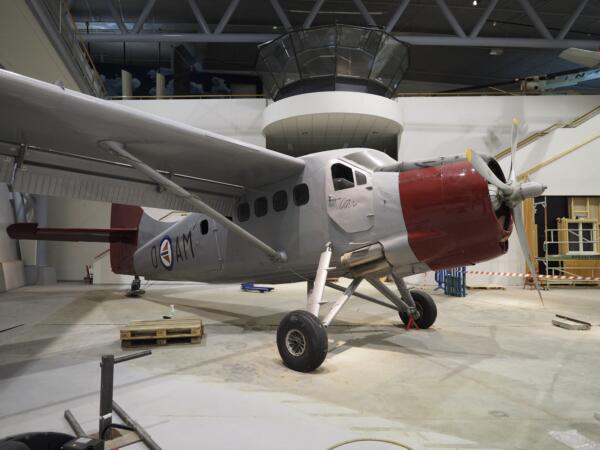 719-squadronen hadde en DHC-3 Single Otter på Bodø Flystasjon fram til Twin-Otteren overtok.
Dette flyet gikk under navnet "Bestemor Duck".
The Otter DHC-3 in the old exhibition on the civilian part of the museum. This type of aircraft, together with the Norseman aircrafts, served the coastal route to Widerøe until the Twin-Otter arrived. These aircrafts were also used for many other types of assignments, mostly on floats.
The 719 squadron had a DHC-3 Single Otter at Bodø Airport until the Twin-Otter took over.
This plane was best known as "Grandma Duck".
| | | |
| --- | --- | --- |
| 28.06.2022 | | |
| | | |
| | | |
| | ... | |
15.06.2022
Mulig salg?
Hei.
Oppdateringer fra de militære samlinger.
Otter DHC-3 er på vei til et nytt (og bedre) liv i USA. Der skal den få full overhaling og bli en flyvende gjenstand (heter sikkert noe annet når det er kommersiell drift…).
Kort:
Dette eksemplaret med serienummer 50-081 og LMU.064765 har ikke norsk proveniens og kom til landet via en byttehandel. Den ble restaurert og oppmalt i norske farger, som en av de to maskinene som var på Sydpolen under «Operasjon Pingvin» i 1958.
Den har vært utstilt i mange år ved NL på sivil side (1994-2016).
Fra 2016 til dd har den vært lagret i påvente av forskjellige mulige løsninger, til den nå blir solgt til Kenmore Air.
På den positive siden er at vi får frigjort en hel del plass i FMAs shelter 408 og det kommer noen millioner i statskassa….
Mvh
Ole Sigurd Sørensen
Kaptein/ Nestkommanderende
Luftforsvarsmuseet og Forsvarets Flysamling Gardermoen
Hello.
Updates from the military collections.
The Otter DHC-3 is on its way to a new (and better) life in the United States. There it will be fully overhauled and become a flying object (probably called something else when it is commercial operation…).
Card:
This plane with serial number 50-081 and LMU.064765 does not have Norwegian provenance and came to the country via a barter. It was restored and painted in Norwegian colors, as one of the two machines that were at the South Pole during "Operation Penguin" in 1958.
It has been exhibited for many years at NL on the civilian wing (1994-2016).
From 2016 to date, it has been stored pending various possible solutions, until it is now sold to Kenmore Air.
On the plus side is that we get to free up a lot of space in FMA's shelter 408 and there will be a few millions for the treasury….
Regards
Ole Sigurd Sørensen
Captain / Deputy Commander