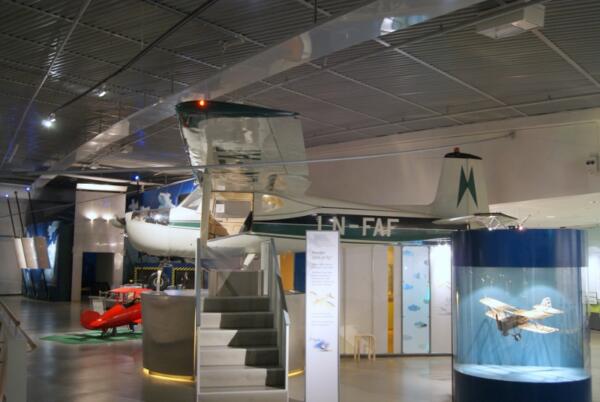 Cessna 150 er et lett sportsfly fra USA.

I 1958 satset Cessna fabrikken igjen i markedet for 2-seters sportsfly med Modell 150. Det første året flyet var i produksjon ble det solgt mer enn 700 eksemplarer.

Flytypen ble solgt i forskjellige versjoner: Standard, skolefly, lokaltrafikk og patruljeutgaver. Alt etter tiltenkt bruksområde var oppsettet tilpasset oppgaven. Skoleflyene kunne flys fra høyre og venstre sete, lokaltrafikkflyet var utstyrt med blindflygings- og radioutstyr beregnet for ruteflyging og patruljeversjonen ble levert med større drivstofftanker og bedre utsyn fra cockpit.

Produksjonen av Cessna 150 stanset i 1977. Det var da produsert 23.836 eksemplarer inkludert 1.754 bygget på lisens i Frankrike.

Denne Cessnaen er satt opp slik at besøkende kan gå inn i flyet og prøve kontrollene. Mektig populært hos den yngre generasjonen. Flyet står i avdelingen som omhandler fysikken bak flyvning.

Tekniske data:

Motor: 100 hk Continental O-200-A

Lengde: 6,7 m

Vingspenn: 10,2 m

Høyde: 2,1 m

Maks vekt: 681 kg

Maks hastighet: 200 km/t

Maks høyde: 4670 m

Rekkevide: 1008 km

Cessna 150 is a light sport plane from the US.

In 1958 the Cessna Company again focused on the market for 2-seat sport planes starting the production of Model 150. The first year the plane was in production they sold more than 700 copies.

The aircraft was sold in different versions: Standard, trainer, local traffic and patrol editions. Depending on the intended use the layout was adapted. School planes could be flown from the right and left seat, local transport plane was equipped with blind flying- and radio equipment intended for scheduled flying and the patrol version had larger fuel tanks and better visibility from the cockpit.

The production of Cessna 150 was stopped in 1977. It was then produced 23,836 copies including 1754 built under license in France.

This Cessna is set up so that visitors can enter the plane and try the controls. It is mighty popular among the younger generation. The plane is on display in the "department of physics behind flying".